---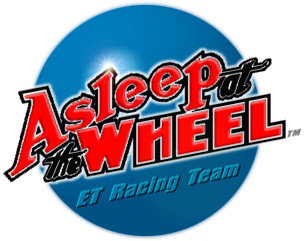 Welcome to the Asleep at the Wheel Racing Team (tm) Website
Contact Tim or Judy Lee at aatwracing@sbcglobal.net
Based in Austin Texas, the Asleep at the Wheel Racing Team (tm) recently celebrated our 222nd event win. We also have approximately 129 runner-ups, and 133 semi-final finishes running in Stock Eliminator, Quick Rod, Electronics, Footbrake, and Jr Dragster Bracket categories at dragstrips in the Central, Southern, and Northern Texas area (As of September, 2011).
---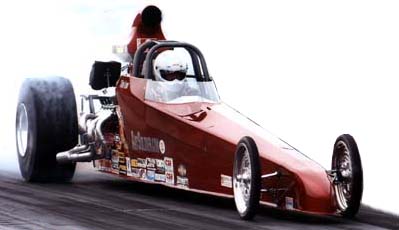 This is our 2004 Joe Monden Rear Engine Dragster that we race in NHRA SuperComp and ET bracket competition.
Using a 555CI Reher Morrison Super Series Big Block Chevy, this car has run 7.90 second ETs at 170MPH
Driven by team co-owner Tim Lee who has accumulated 131 wins, 81 runner-ups, and 88 semi-final round finishes since 1989,
and by Dylan Lee who has a career 90 wins, 47 runner-ups, and 45 semi-final round finishes
---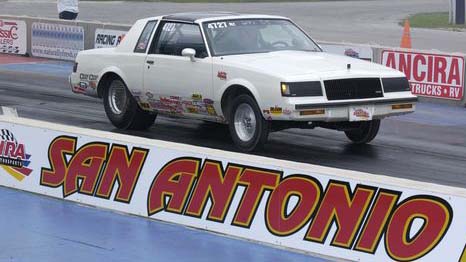 This is our 86 Buick Regal T-type that can be seen in the SpeedTV coverage of the San Antonio Pinks All Out race.
This car was formally run as a NHRA Super Stock GT class car, but has now been reassigned to ET bracket duty.
It utilizes a Chevy small block bracket motor. The transmission is a Jerry Backstrand modified Hughes Powerglide using a Hughes converter. The Eas-Tex Racecars built back-half has 4-link and Koni coilovers, a Ford 9" housing Strange Engineering components, and a 5.14 gearset. We run this car in Top ET bracket class (AKA Electronics) and occasionally Heavy/Modified (footbrake) classes.
---
For previous AATW rides go to ---> Asleep at the Wheel Racing History Page

---
Please consider supporting our troops via:


---

Many thanks for the Team's namesake to Ray Benson and everyone at

where Bob Wills is still the king!

---
If you'd like to know more about ET/Bracket racing in general, or for the latest in Bracket racing news across the USA:

Photos copyright & courtesy of Robert Grice
Copyright © 2000-2011 AATWracing. All rights reserved.
Reproduction in whole or in part in any form or medium of any page or image without express written permission of AATWracing is prohibited.


Our "other diversion"